#LITTLEPENGUINS #WILDLIFE
Daily tours to Phillip Island
Discover Phillip Island, home to the world-famous Little Penguins, on a small group day tour with Otway Discovery. This island is home to the world's largest colony of Little Penguins, and is one of the best places to see penguins up close. The Penguin Parade is sure to be the highlight of your trip. Sit at Summerland Beach as the sun sets and await the arrival of hundreds of these little birds, as they return from the ocean at the end of the day. From your seats and from purpose-built boardwalks you will watch the penguins waddle right past you as they make their way back to their nests in the sand dunes.
Discover even more iconic Australian wildlife when you take our Phillip Island Day Tour. Included in the day is a visit to Moonlit Sanctuary where you can hand-feed kangaroos and wallabies, and get up close to koalas, dingos, Tasmanian devils, wombats and much more!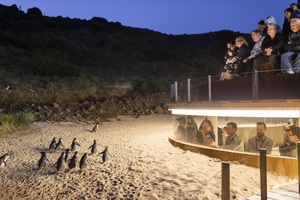 Phillip Island is a nature lovers paradise and we offer 2 different options to discover this magical part of the world, a Day Tour or an Express Tour. Come on the trip of a lifetime with Otway Discovery Tours!
OTWAY DISCOVERY TOURS
PH +61 3 9629 5844 EMAIL INFO@OTWAYDISCOVERY.COM.AU