There's so much to see along the Great Ocean Road. It is after all one of the top ten drives in the world and with good reason.. It's absolutely spectacular! The 12 apostles are the most famous attraction along this stretch of Victoria's south coast but what are some of the other popular spots you should make part of your trip? The Otway National Park and Ranges is sure to be one of the many highlights!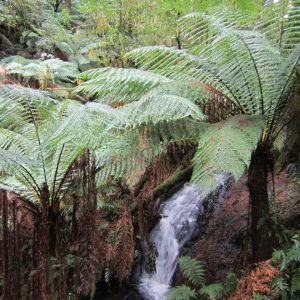 Where is it?
Beginning at Torquay and running all the way to Princetown and north to Colac, the Great Otway National Park covers a fairly large area and you can be sure there are plenty of sights and attractions spread throughout.
From rugged coastlines and sandy beaches to rainforest walks and historical lighthouses there's plenty to keep even the most discerning traveller enticed for days.
History
The Otway Ranges were originally within the Antarctic circle millions and millions of years ago and home to some very interesting Dinosaurs including the Timimus hermani and Leaellynasaura amicagraphica. Fossils have been discovered in the Otways near dinosaur cove including a 43 centimetre femur which was found back in 1991!  
The Gadubanud people were the original indigenous inhabitants of the area. It provided them with many resources and sources of food such as animals, fish, shellfish and plants and vegetables. Possum hides were taken advantage of and used to make clothes to keep warm.
When the first settlers moved into the Otways in the 1850's, Victoria was experiencing explosive population growth. Countless new settlers arrived to seek a new life, a fortune or the thrill of exploration. This created a very high demand for timber, and what better way to take advantage of this opportunity than to put the dense local rainforest to good use? In about 25 years, two-thirds of the area's rainforests were chopped down. Fortunately, in the 1870's companies started to replant a lot of what they had removed. This causes an interesting divide where a third of the national park is native forest, a third is plantation timer, and a third remains cleared of woods as farmland and pastures.
See and Do
Cape Otway Lighthouse
The Beacon of Hope as the lighthouse is also known as is a great spot to visit along the Great Ocean Road and in Otway national park. It is Australia's oldest still standing lighthouse and considered by many to be it's most significant. Many Ships were wrecked off of Cape Otway leading to it's construction along this treacherous part of the coastline.
At the lightstation there is a cafe, cultural centre, nice walking trails and of course the lighthouse itself. Walking the winding staircase to the top of the lighthouse is a must do and gives a perfect vantage point for amazing views of the coastline as well as whale spotting in winter!
Wildlife
There's an abundance of wildlife to be viewed in the Otway National Park and a few different places to try and glimpse a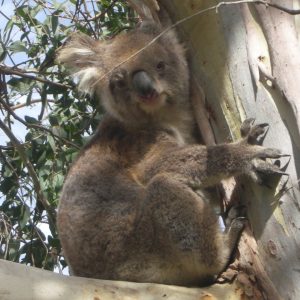 peek at some of Australia's favourite critters.
For the best Koala viewing head up the dirt track of Grey River road in Kennett River. Another favourite spot which is less frequented is Mannagum Drive off lighthouse road at Cape Otway. There are less people here making for a pleasurable viewing experience.
Kangaroos can best be viewed at Anglesea and also the Caravan park in Princetown, Dawn and dusk is the best time to see them being active.
After Rainfall is the best time to see The Otway Black Snail. This is one of the world's few carnivorous snails which can be seen on the undergrowth of the rainforest floor hunting for worms and small invertebrates. They are roughly 25 millimetres in diameter and are distinguished by their shiny black shell.
Whales can be seen off the coastline from May To October as they come to the area to breed. They can be spotted from most vantage points along the coastline with luck.
Walk through the Rainforest
There are a few different walks that you can do along the way with Maits rest being the most popular. Melba Gully is another scenic spot to go for stroll. Breath in the fresh air, marvel at the massive Mountain Ash trees, Eucalypts and ferns along the way.
Lake Elizabeth
Located roughly 1 hour north of both Apollo Bay and Lorne, Lake Elizabeth is one of the less visited attractions in the
area but is well worth the trip. An unpaved road leads down to the camping area where there are a couple of different walking options available. A scenic 20 minute walk through atmospheric rainforest will get you to the lake where there is the chance to possibly view one of Australia's most interesting creatures – the platypus.
For the best chance of catching one of the shy locals, arriving at dusk or dawn is best as they can spend up to 17 hours a day resting in their burrows. There are also Kayak tours that are run which give the best chance of viewing the platypus and also glow worms.

Great Ocean Walk

By far one of the most scenic ways to experience the Great Ocean Road. The Great Ocean Walk begins at Apollo Bay and goes all the way to the mighty 12 apostles for a most inspiring climax. Walks last from one day up to 8 days if you want to be really in depth. Check out the itineraries here.
Fun Facts
All-In-One Environment
Because of the timbering and replantation efforts of Victoria's settlers, and Australia's unique climate, Great Otway National Park contains many ecosystems in a relatively small area. Cruising through on our Great Ocean Road tour you'll see the coast's sheer cliffs, sandy beaches, planted forests and natural rainforests. We make sure to stop at a few of these different locales to take in how amazing this diversity really is.
From the Ashes
Should you be passing through in summer, you may be able to see a fascinating phenomenon: Victoria's forest fires. The sun burns hot in Victoria's summers, and this causes quite a few forest fires. Interestingly, this is not a bad thing for the local plant life, but revitalizes it instead. The ashes of the fires leave behind fertilize the soil, allowing new plant life to grow back, quicker and stronger than ever before. In a way, the Great Otway National Park's forests are like a phoenix, they burn and rise again from their own ashes.
Visit the Otways today on a Great Ocean Road tour!